Strait Occupational & Hand Therapy & Strait Exercise and Wellness Center
Strait Occupational Hand Therapy has closed, as of September, 2021. We thank you for your patronage throughout the years.
Strait Exercise and Wellness Center is still open and taking new clients.
Occupational Therapy
Our Certified Hand Therapists are skilled at choosing just the right treatments to assist our patients in restoring their range of motion and reducing pain and swelling.  Whether you are seeking therapy to recover from surgery or avoid it, Strait Occupational & Hand Therapy, PS is your first choice for care.
Exercise & Wellness
Lynda Guditus Williamson, OTR/L, Owner of Strait Occupational & Hand Therapy and Strait Exercise & Wellness Center, is excited to bring MELT to Port Angeles!  The MELT® Method at Strait Exercise & Wellness Center is a simple self-treatment method that combats chronic pain, improves performance, and decreases the accumulated stress caused by the repetitive postures and movements of everyday living.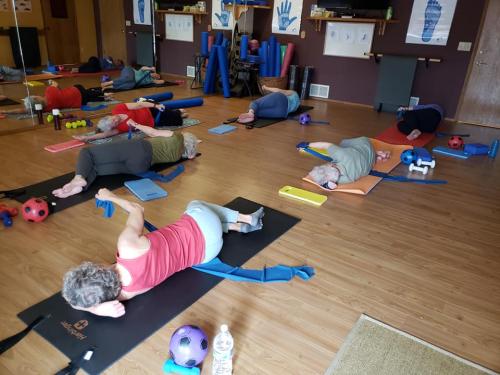 Offering Exercise & Wellness programs!
MELT was created by New York City based manual therapist Sue Hitzmann, and it is taught around the world to groups and individuals by trained instructors. Lynda is certified as a Hand and Foot Instructor, Level One and Level Two Soft Roller Instructor and more recently as of November 2018, Level One Neurostrength Instructor.
Neurostrength is designed for everyone but essentially for those active individuals who want to tap into and reprogram their nervous system to provide greater strength and endurance to perform to their best!
Call the clinic for on-going classes and workshops! We suggest starting with the Hand and Foot Treatment series to address the most abused surfaces of our bodies and see how you can indirectly address chronic back, neck, shoulder, knee pain.
The MELT® Method is the very first Hands-off Bodywork® method developed for the general public as a self-care tool to prevent and relieve chronic pain. It's an affordable addition to any wellness or fitness routine. MELT® IS FOR EVERYONE!
For more about MELT, click Here.