Purchase your MELT Method Supplies Through Us!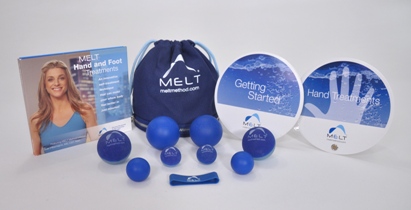 Shopping Links 
MELT® Hand & Foot Treatment Kit,
8 balls, the Bunion Band, a bag, and booklets
Hand & Foot Bundle,(Pictured)
includes the Treatment Kit above, plus DVDs featuring Sue Hitzman
includes the Treatment Kit above, plus your MELT Soft Roller at a package price.
Separate online account creation on the MELT Method site is required to place this order, which is separate from your class registration.  You can purchase any item in their shop; these links are the most popular items.
Advance registration is required and class is limited to 10 participants.
Please call 360-417-0703 to be added to our email list to receive information on the next MELT® classes.